July 11, 2023 at 10:10 a.m.
Hope Branch Library 25th Anniversary Celebration 07/12: Be a Part of History, Help Make History Happen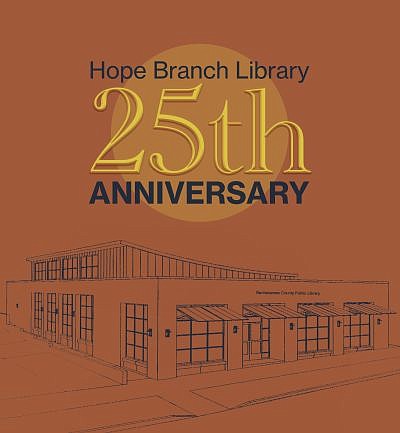 ---
Every now and again an opportunity comes around to celebrate a space and time that played a fundamental role in a community's development and just such a celebration will be held at the Hope Branch Library, located at 635 Harrison Street in downtown Hope, from 5:30 to 6:30 p.m. Wednesday as it commemorates its building's 25th Anniversary.
Tricia Gilson, archivist with Columbus, Indiana Architectural Archives, will offer a 45-minute talk focusing on the nearly 100-year history of library services in the Hope community and the library's current location.
"I am going to talk about the various locations, on the north and west sides of the Square, all leading up to the need for the building where the library is now," Gilson says. "I wanted to give a wider perspective; it isn't just a beautiful building on the Square, but a continuation of about 100 years of a presence on the Square by the library."
Deborah Berke – a New York-based architect – designed the library's current space and, like her other projects, Berke used her talents to express the beauty of everyday life through the use of materials, Gilson says – a full-bodied expression of Berke's architectural philosophy.
"If you just look around the Square, it works with the other 19th century architecture," Gilson says. "I think the library building is such a welcoming place on the Square and I think that fits, to me, part of that reflection of the role of libraries in community and the importance of the library as a public meeting place – somewhere we can go and share ideas."
Assistant Librarian Brenda McKinney has been with the Hope Branch Library for 18 years and has been witness to the numerous changes it has undergone over the years. Since the days long before digital downloads, McKinney says she has enjoyed getting to know the community of Hope and watching generations of families walk through the library's doors.
"I love this community," she says. "I hope more people visit us and I get to know the community even more."
During Wednesday's presentation, Gilson says she is hoping to get some help from those in attendance in identifying individuals in older photographs from the building's dedication in 1998.
"I'm excited to have people in Hope see some of our materials in our collection," Gilson says. "And help us identify who is who."
Shelley Bishop has been with the library for nearly a decade and adds she is looking forward to the event to learn more about the background and history of the library. Without a doubt, the importance of the library's presence in Hope cannot be overstated, she says.
"We reach out to many ages," Bishop says. "The library has a nice hometown feel and we like for people to feel as though they are family. We try really hard to remember people by their names and cater to everyone who comes through the door so they can feel special."
But it isn't just the welcoming structure and atmosphere, it's also what's inside that makes the Hope Branch Library unique. For instance, there's "Library Dave" and his storytimes, Bishop says.
"Dave has his storytimes throughout the year," Bishop says. "And then, every Thursday he does it on the Square under the gazebo. That in itself draws kids."
Miller has been with the Hope Branch for more than 15 years and says this 25th anniversary is a wonderful milestone to celebrate.
"The design of the library has allowed it to age very gracefully," he says. "It doesn't need any major updates, additions or to retrofit it to how technology has changed over the past 25 years and that is a testament of the design of the building."
Light refreshments of cookies and punch will be served during Wednesday's celebration, Miller adds. Kiddos in attendance will also be given a booklet they can color and take with them.
The celebration is set to be an expression of the spirit of community and its pivotal role in the furtherance and betterment of library services in Hope.  
As for being a part of history, Miller says, this will be a chance for everyone to gather and celebrate what has become a hub in the community.
"It feels really good, and it is one of the things I love about Hope," he says. "To be a part of the ambiance and one of those milestones that call attention to it."