June 12, 2023 at 8:55 a.m.
---
It is safe to say that the first-ever Community Garage Sale, presented by Main Street of Hope, was a resounding success and organizers couldn't be happier.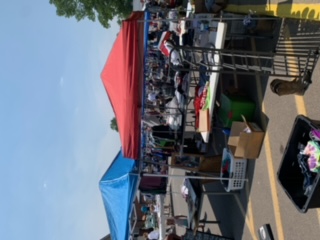 Vendors setting up Saturday morning. Photo credit: Jenni Richards "The event was a huge success, especially for being the first year for it," says Jenni Richards, president of Main Street of Hope. "Overall, it was a huge success, I am pleased with the turnout and appreciate everyone who helped make it happen."
When all was said and done, 40 vendor spots had been filled on the Square, Richards says. All vendors -- with the exception of three -- have already prepaid and booked their booth space for next year's sale, which is slated for June 8, 2024.
The Prairie Creek Band played a fantastic set of a wide variety of music that appealed to all ages, Richards adds.
In addition to all the wonderful people in the town of Hope and surrounding areas who came out to the event, Richards extends her gratitude to the following individuals and organizations who helped make Community Garage Sale 2023 a success:
Main Street board members and their families
HSJ Online with the food trailer and helping to promote the event.
Hope Fire Department with food trailer
Shiver Shack with Sno Cone trailer
Andy Kilps from the Moravian Church for the use and setup of the 9 square
Alisha Roberts from State Farm for setting up and running ring toss
Columbus Visitor Center
Prairie Creek Band
Orphan Grain Train
Norman's Funeral Home for their donation
Sassy Faces and Funny Bonz Balloons
Hope Library for opening up the Annex
Town of Hope and Hope utilities for blocking the street
Merchants of the Main Street districts for having sidewalk sales and supporting our event
"We will definitely be doing the event again next year," Richards says.