June 21, 2023 at 9:45 a.m.
---
What began as an effort to raise funds for a great cause has turned into something absolutely tremendous, literally, overnight.
Everyone in the Hope area is invited to come out and take part in the excitement while rallying support for the Hauser boys' basketball team as they make history with the "Each One Reach One" free throw contest at 6 p.m. Thursday at the Hauser Field House, located at 9273 N. State Road 9, to benefit the Student's Fund of Hope.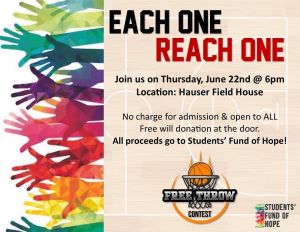 Not too long ago, when the Student's Fund of Hope proposed fundraising efforts to help cover the cost for depleted lunch accounts for the entire Flat Rock-Hawcreek School Corporation and they were blessed with an unexpected surprise.
Members of the boys' basketball team, under the leadership of Trent Moorhead, are currently collecting pledges for each free throw they make during the free event and the money these players are raising is incredible.
Each player will take 100 free throws during the event, says Whitney Budd, founder of the Student's Fund of Hope. Some players have already landed committed pledges upwards of nearly $50 per shot. As it stands, at the time this article was written, combined pledges for some players are already in the neighborhood of $10,000.
All proceeds from the event go to the SFOH.
In addition to raising amazing funds to help out their fellow students, there are some awesome prizes up for grabs for the event's top players, including Colts tickets, Pacers tickets and even a week's vacation to Fort Myers, Florida.
Free-will donations will be accepted at the door and player pledges can be made up until the 6 p.m. start of the event, Budd says.
For more information about the event, please visit SFOH on Facebook HERE.