August 16, 2023 at 7:50 a.m.
Where is Hauser Graduate Alex Gross? From Hope Biddy Ball to Professional Basketball in the Netherlands for ZZ Leiden Dreams Can Come True!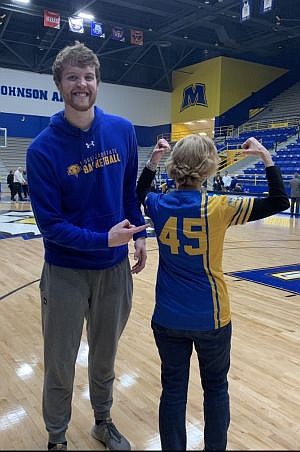 ---
I was at the Hope Community Center Smoke on the Square event and was thrilled to see Alex Gross and to have a few moments to talk. Alex, as well as his family, have a special place in the hearts of Hope. During our conversation, I asked him if he might be willing to answer some questions from a former teacher knowing readers of "HSJ Online" would greatly appreciate it. Alex quickly agreed but indicated his schedule would be quite full while pursuing a professional basketball contract and also getting married. I took his contact information, compiled a list of questions, and sent them while stressing to take his time in responding.
Despite being extremely busy, Alex made it a priority to spend time with the Hauser basketball team during the spring and summer, which speaks volumes about his character and devotion to Hope. I was excited when eventually receiving Alex's responses to all my questions as promised, which has also always been an important part of his character.
Q: When do you remember first picking up a BB?
A: remember starting to play basketball in the 3rd grade when joining a Biddy Ball team. ** His first basketball coach was Dawn Herron Wilson, former outstanding Hauser athlete and now Hauser secretary, a position she has held for 12 years... Dawn recognized Alex's potential from the very beginning and has followed his progress throughout his career including attending several of his college games and watching others on television. She was thrilled to receive a jersey gift while attending one of his games, number 45.
Q: It wasn't long before you started playing elementary basketball and on traveling teams. What are some of your favorite memories?
A: Some of my favorite memories early include playing for my dad as well as starting relationships with some friends that I still hold dear to this day.
Q: I was fortunate to have you as a student in fifth grade but don't remember you being so tall. When did you get your growth spurt? How tall are you? What size shoe do you wear?
A: I never really had a growth spurt, just consistently kept growing until reaching 6'10. I wear a size 15 shoe.
Q: I recall one Hauser team you played on upsetting the sectional favorite and winning the Sectional Championship. In fact, I was there to witness it as well as many from the Hauser Nation. What made that team so special?
A: I think that team had great chemistry and a balanced attack. Four guys could be the leading scorer on any given night. We had great inside scoring with Justin Compton and I and could attack from the outside with Connor Wilson and Mason Sherman. It was a team that overall knew their roles and executed them. That season is still one of my favorites in my career.
** Alex's former Hauser coach, Griff Roth, used the words phenomenal and incredible and even got a little emotional while talking about Alex, the 2017 season which the Jets were not ranked but upset the #3 Oldenburg Twisters, and Alex's basketball journey. Griff also mentioned how he was fortunate to have a client obtained two tickets, including one for his wife, Leah, to watch the IU and Morehead State game and had the honor afterward to meet with Alex on the Hoosier court.
Q: You have always had strong faith, and I still see the image of Pete Trotter, as well as you, leading a prayer circle after games, no matter the score. What would you like to share about your journey of faith?
A: My faith has always been the most important thing in my life; my faith has helped me get through lots of challenges in my life. It also keeps me motivated every day because I know that God has blessed me with the opportunity to play the game I love for a living.
Q: From Hauser, you went to Olivet, Division II, where you were a dominating presence with fantastic stats. It was obviously a good fit for you as an athlete and student. What are a few of your many favorite memories?
A: I had the greatest four years of college during my time at Olivet. I met my wife, Karina, there and enjoyed a ton of winning. A few of my favorite memories include winning the Michigan Intercollegiate Athletic Association Conference every season, scoring 42 points to win the MIAA Tournament Championship, and going to various states for Christmas tourneys (Florida and California).
Q: You had another year of college eligibility and chose Morehead State, Division I. Once again, it was a good decision for your athletic career and student career. What are a few of your favorite memories?
A: I enjoyed my year at Morehead State. My favorite memories include winning the Ohio Valley Conference for the first time in 39 years, beating Clemson in the NIT tournament, and playing in Assembly Hall against the Hoosiers.
Q: You have a degree in Sports Management? What led you to that area of study?
A: I am a huge fan of sports in general and love being in this field while wanting to stay in it for my professional career outside of basketball hoping to get into the business side of sports.
Q: Transitioning from a high school basketball program to a college basketball program and then another presents some challenges. What was the most difficult one?
A: I would say some of the biggest challenges to overcome was managing my time efficiently to succeed but also build relationships with people. I would also say just getting through rough patches of the season such as a losing streak or injuries.
Q: Student athletes often do not continue a sport for their entire time in college. What are some of the keys in staying in a program?
A: The biggest key to being able to stay in a program is learning how to be consistent and self- aware about yourself. Throughout my five years, I continued to work on my habits in order to be successful then and later. I constantly looked at myself to figure out what I needed to do to be a better person and athlete.
Q: Now, you are on your way to playing professional basketball in the Netherlands for ZZ Leiden. There are likely many emotions. What are some of your thoughts?
A: I am feeling a lot of emotions. I am nervous because it is a new level and country. But I believe in myself and am confident I will be able to have a lot of success. This team won the BXNT League last year, so I am hoping to help keep that success going.
Q: There is a special lady in your life. What do you wish to say about the importance of that relationship as you continue your life journey?
A: Karina is my rock. She is my best friend and keeps me grounded. I cannot wait to go on this adventure with her."
Even though Alex and Karina will be 4,152 miles from Hope in Leiden, population of 127,000 compared to our 2,000, I know there will be a lot of people thinking about them and hoping the very best.
I spent some time discussing this opportunity with Alex's dad, Spencer, at Major's True Value, a community fixture for years. Spencer, with a huge smile, shared how Alex had received several offers through his agent but felt this one was the best fit for him as well as for Karina. Of course, Spencer and Kristine, Alex's mom, are extremely proud and excited and have already researched traveling to Leiden, with the flight being around eight hours from Chicago. Based on what I have read about Leiden, they may want to stay for a while. And others in the community may want to consider the Netherlands for a vacation while watching Alex play for ZZ Leiden.
Alex and Karina plan on returning this summer, and I'm sure it will quite the homecoming!